Perfection
Perfect view, location, and price. Ft Myers Beach weather in February is warm enough for sunning and swimming. There are several great restaurants right across the street, so once u get here no car is needed. I would love to go back.
- N from North Carolina
The full direct Gulf of Mexico views from this corner unit make this a premium view for a great value. We would love to provide a custom quote for you which will depend on many factors, including, but not limited to:
how long you want stay (our owner's association has a "minimum weekly rental" period, but the longer you stay, the more of a discount that you get),
whether or not you are wanting to stay Saturday to Saturday (almost everyone checks in and out on a Saturday, so if you want to start and/or end your stay on other days of the week, that will mean that we'll have empty days both before and after your visit, for which we'll have to compensate),
the time of year (winter/spring is the most popular, most expensive time, and late summer/early fall is the least popular, least expensive time), and
how far in the future your stay is (we offer last minute booking specials to make sure that we don't leave our home empty).
We will automatically give you the best possible rate that we can.
Having said all of that, we understand that you want to know how much your stay will cost. Here are some rough guidelines (and we would love to provide you with a custom quote, available below):
| Time | Rate | Time | Rate |
| --- | --- | --- | --- |
| May - July | $600 to $870 per week | August - October | $490 to $720 per week |
| November - January | $750 to $1,080 per week | February - April | $930 to $1,370 per week |

Breakfast With A View!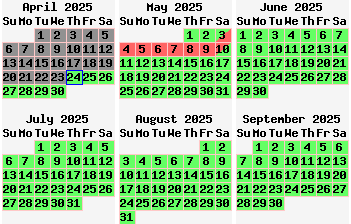 (Green dates are available. Red dates are not.
If the upper left half of a date's box is red, that means that a guest is
checking out that morning. You can check in that afternoon.
If the lower right half of a date's box is red, that means that a guest is
checking in that afternoon. You could check out that morning.)
There is a $140.70 departure cleaning fee (that we collect on behalf of our cleaning crew; cheaper in the past but increased due to additional COVID-19-related cleaning), and 11.5% tax (that we collect on behalf of the state of Florida and Lee county) added to all bookings. There is a holding deposit (that will become a refundable damage deposit upon your arrival at our home) that will be returned after a successful departure cleaning/inventory.
The price you get quoted for a specific week might be slightly lower or higher that what is given above due to the factors mentioned at the top of the page, but you can rest assured that we will automatically give you the best possible rate that we can for the dates you request. Get a custom quote by filling out the form below! There's no obligation, we promise we won't put you on any crazy email lists, and we'll get back with you very quickly.
Request A Custom Quote