Calendar of Availability
Ponder Your Dates While Thinking About Being Here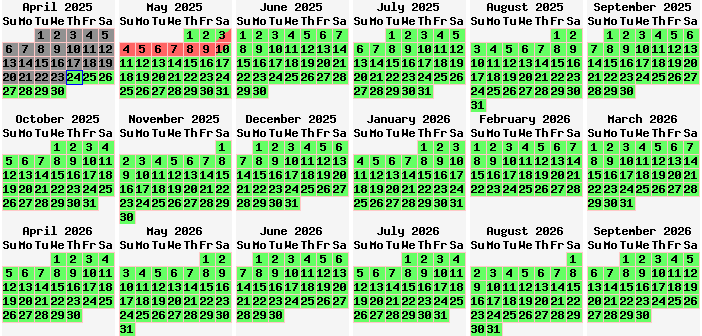 Checkin is at 3:00pm (or later if you wish). Checkout is at 10:00am (or earlier if you wish). Our owner's association has a "minimum weekly rental" policy.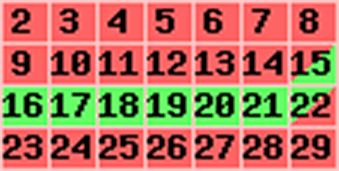 In this example, we are booked at the
beginning, with someone checking out on
the morning of the 15
th
. We have someone
checking in on the afternoon of the 22
nd
.
You would be able to stay for the week from
the afternoon of the 15
th
until the morning
of the 22
nd
.
Dates with a box that is
Green
at the bottom refer to available nights. Go ahead and
request a custom quote!
Dates with a box that is
Red
at the bottom refer to nights that are no longer available. Dates with a grey box are in the past. You can't request those.
If the top half of a date's box is red, that means that someone is checking out that morning. You can check in that same afternoon and spend the night. If the bottom half of a date's box is red, that means that someone is checking in that afternoon. You could check out that morning.
Our stay was simply outstanding. Before we arrived, we received excellent instructions making the trip easy. Everything we needed and more was at our disposal in the condo. The luggage carts and the elevator made it a breeze to move in in one trip from the car. We found the guest book extremely helpful, and started off with an early trip to the Publix for a few groceries. Since we were there for a rest and relaxation trip, we spent a lot of time in the apartment reading, playing cards, and having meals on the fabulous balcony. We were in town for the annual sand sculpting competition held at the Holiday Inn down the street and the crowds were larger than we expected. We made excursions north to Ft Myers to see the Edison -Ford winter estates and south to Naples to walk around the downtown area. All in all, a great trip. The gulf views were extraordinary, the area was quiet with many excellent places to eat, and the condo was everything it was advertised. The angle of view is probably the best one in the building, especially from the 11th floor. Already booked for next year.
- T from North Carolina