Calendar of Availability
Ponder Your Dates While Thinking About Being Here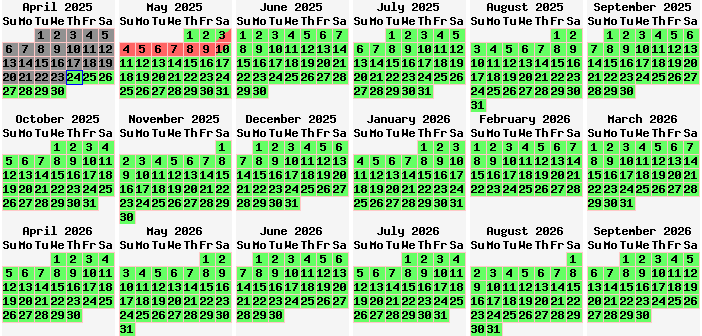 Checkin is at 3:00pm (or later if you wish). Checkout is at 10:00am (or earlier if you wish). Our owner's association has a "minimum weekly rental" policy.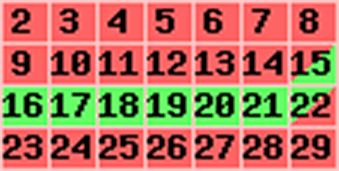 In this example, we are booked at the
beginning, with someone checking out on
the morning of the 15
th
. We have someone
checking in on the afternoon of the 22
nd
.
You would be able to stay for the week from
the afternoon of the 15
th
until the morning
of the 22
nd
.
Dates with a box that is
Green
at the bottom refer to available nights. Go ahead and
request a custom quote!
Dates with a box that is
Red
at the bottom refer to nights that are no longer available. Dates with a grey box are in the past. You can't request those.
If the top half of a date's box is red, that means that someone is checking out that morning. You can check in that same afternoon and spend the night. If the bottom half of a date's box is red, that means that someone is checking in that afternoon. You could check out that morning.
Breathtaking Moonlight and Sunset View
My husband & I hadn't been on a vacation for some time and we were really looking to 'just get away' for a while and were impressed by Florida Sunset Home website. Our stay couldn't have been more perfect; exactly what we were looking for! The condominium was just as beautiful as the pictures depicted. Everything went without a hitch. Upon our entrance, we were greeted by a beautiful palm tree mural in the entry way and everything was in clean and in good order. The first night we were there, my husband awoke me at 4:30 am for the view outside the balcony. I've never seen the moonlight so bright and shining on the gulf; it was absolutely amazing. Within a few minutes the sun was rising on the opposite side of the building peaking through around the corner of the building. As the sun arose, the moon dissolved from the sky. What a wonderful way to begin our stay. We've already recommended your home to many relatives and hope to return soon ourselves. Thank you for making our stay most memorable!
- J from Ohio