Calendar of Availability
Ponder Your Dates While Thinking About Being Here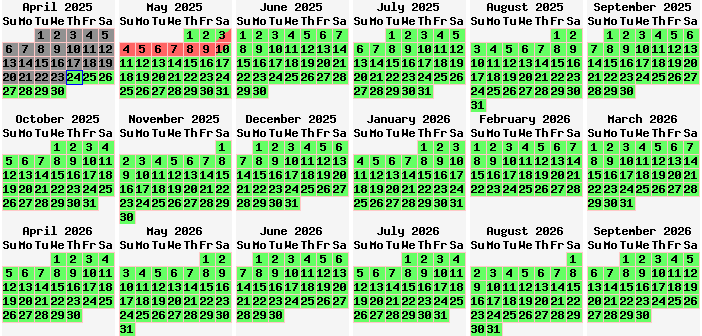 Checkin is at 3:00pm (or later if you wish). Checkout is at 10:00am (or earlier if you wish). Our owner's association has a "minimum weekly rental" policy.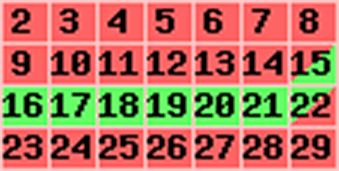 In this example, we are booked at the
beginning, with someone checking out on
the morning of the 15
th
. We have someone
checking in on the afternoon of the 22
nd
.
You would be able to stay for the week from
the afternoon of the 15
th
until the morning
of the 22
nd
.
Dates with a box that is
Green
at the bottom refer to available nights. Go ahead and
request a custom quote!
Dates with a box that is
Red
at the bottom refer to nights that are no longer available. Dates with a grey box are in the past. You can't request those.
If the top half of a date's box is red, that means that someone is checking out that morning. You can check in that same afternoon and spend the night. If the bottom half of a date's box is red, that means that someone is checking in that afternoon. You could check out that morning.
PARADISE ON THE GULF!
We almost hate to write a review, because we want to keep this place a secret! Million dollar views from this lovely condo. The sunsets were completely breath taking. The condo had EVERYTHING we could have ever needed for a week long vacation. It was just the right size for 2 people. Loved the little private beach area. We had never traveled to the gulf side of Florida, and while looking for places to stay - my brother told us of this condo and said, "you don't want to stay anywhere else." He was absolutely right! It was is walking distances of great little restaurants, and if you did have to travel by car, it didn't take long to get to anther restaurant. The grounds were impeccable. We felt very safe and secure the entire time. The owners were a PLEASURE to work with. We were very thankful that they are willing to share their home with us. Would love to return someday. Was such a relaxing week. It was hard to leave and return to reality. Can't say enough great things about this condo!
- D from Virginia