Calendar of Availability
Ponder Your Dates While Thinking About Being Here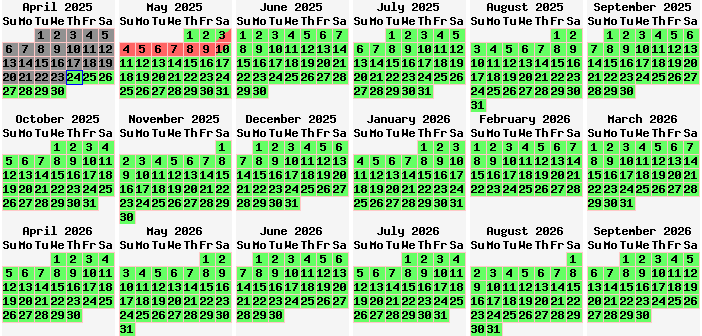 Checkin is at 3:00pm (or later if you wish). Checkout is at 10:00am (or earlier if you wish). Our owner's association has a "minimum weekly rental" policy.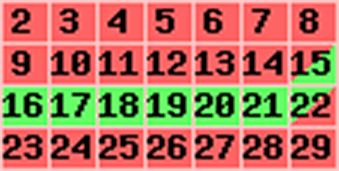 In this example, we are booked at the
beginning, with someone checking out on
the morning of the 15
th
. We have someone
checking in on the afternoon of the 22
nd
.
You would be able to stay for the week from
the afternoon of the 15
th
until the morning
of the 22
nd
.
Dates with a box that is
Green
at the bottom refer to available nights. Go ahead and
request a custom quote!
Dates with a box that is
Red
at the bottom refer to nights that are no longer available. Dates with a grey box are in the past. You can't request those.
If the top half of a date's box is red, that means that someone is checking out that morning. You can check in that same afternoon and spend the night. If the bottom half of a date's box is red, that means that someone is checking in that afternoon. You could check out that morning.
Wow! Fantastic Views!
This is a well decorated, adorable and cozy condo with the most amazing views. If you are sitting on the sofa and look out, you feel like you are on a ship in the middle of the ocean. Every window has ocean views. The sunsets in Ft Myers are truly the best I've ever seen. We did not miss one sunset! I am an avid cook and the kitchen did not disappoint, it literally had everything I needed. The shell searching on the beach was fabulous and we have lots of beautiful treasures to remember the great time we had. We also enjoyed watching the wildlife and birds on the beach. We saw a magnificent Roseate Spoonbill and we even seen a real life 'beach bunny'. Estero Beach and Tennis Club has immaculate grounds, with a very clean pool and gas BBQ grills for your use. The owners of this condo are also truly amazing. They are extremely attentive to your needs and make you feel comfortable from start to finish. I would definitely recommend them and rent from them again. All this being said, when it was time to pack the final bag and head back to Georgia, my husband and I were sad... We wish we could of stayed longer!
- A from Georgia