Calendar of Availability
Ponder Your Dates While Thinking About Being Here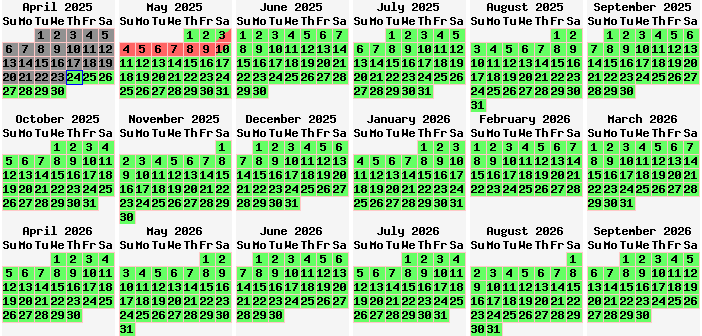 Green is available. Red is no longer available. Checkin is at 3:00pm (or later if you wish). Checkout is at 10:00am (or earlier if you wish). Our owner's association has a "minimum weekly rental" policy.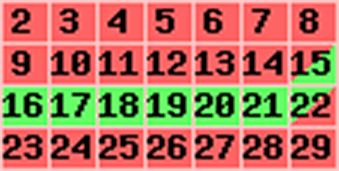 In this example, we are booked at the
beginning, with someone checking out on
the morning of the 15
th
. We have someone
checking in on the afternoon of the 22
nd
.
You would be able to stay for the week from
the afternoon of the 15
th
until the morning
of the 22
nd
.
Dates with a box that is
Green
at the bottom refer to available nights. Go ahead and
request a custom quote!
Dates with a box that is
Red
at the bottom refer to nights that are no longer available. Dates with a grey box are in the past. You can't request those.
If the top half of a date's box is red, that means that someone is checking out that morning. You can check in that same afternoon and spend the night. If the bottom half of a date's box is red, that means that someone is checking in that afternoon. You could check out that morning.
Paradise on the 11th floor
Champagne and caviar view on a beer budget! The condo was exactly as described and perfect for my husband and I. Very clean and updated, easy instructions on how to gain access to the building and we loved the key code instead of a regular key to enter the condo. Even the parking lot that was closed for repaving was not a problem as we found parking in the other lots surrounding the property. The bird estuary was great as I would walk down in a few minutes and take pictures up close of flamingos, pelicans and such. We loved the full ocean view and never wanted to leave, we sat on the deck and watched people fish, saw dolphins and watched amazing sunsets, One evening before sunset someone was fishing right on the beach only knee deep in water and he caught some smaller fish and would throw his catch about 20 feet in front of him where there were a school of dolphins waiting for the catch, just amazing. Thank you for a wonderful experience and we will definitely be back.
- B from Illinois